Name
[
]
Torrens designation MSV-7760 is a M-class commercial starship along the lines of the Nostromo. It is used by Amanda Ripley, Christopher Samuels, Nina Taylor, William Connor and Diane Verlaine for their space flight to the deep space installation Sevastopol. Verlaine is the captain and owner of the Torrens with Connor the navigator and communications officer in 2137. As they approach the Sevastopol there is no communcation and so the crew EVA between the spacecraft and space station.
Characteristics
[
]
Reference stats table.
Appearance
[
]
Appearances in the following;
Alien: Isolation
Interactions
[
]
After the Nostromo's flight recorder had been recovered by the Anesidora, Samuels approached Amanda offering to find her mother, she accepts and they take the space flight for Zeta Reticuli the location of the Sevastopol and Anesidora.
Continuity
[
]
The Torrens with Verlaine and Conner pull away from the space station and lose communications. As Amanda is left alone linking up with the Torrens is part of her missions.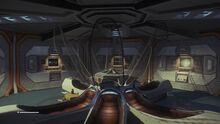 Bridge
Stasis
Mess
Medical
Corridors

Corridors
Prep Room
Engineering
Access Hatch
Airlock

Concept
[
]
Concepts for the installation, spacecrafts and living areas were made by Bradley Wright.
Production
[
]
In production lead artist Jude Bond with lead level design Iain Wright and lead environmental artists Mark Radcliffe and Paul Abbott brought these concepts to life.
Drawing influences from the film Alien these artist included as many ideas from the film as they could. Ideas included the dated terminals, input devices, equipment, doors and dark but electrical corridors. Lead lighting artist Ben Hutchings was responsible to recreate the darkness with lead UI artist Jon McKellan creating the terminal displays and access units.
In game
[
]
In game the shadows and darkness played a large part leaving Amanda with the need to find equipment like batteries for her flash light and flame thrower fuel, both pieces of equipment capable of lighting the way, with flares also available.
The Torrens drew on designs from the M class starship the Nostromo but with a two level design which was implemented by Iain Wright, Mark Radcliffe and Paul Abbott. Lacking the mainframe annex off the bridge the rest of Deck A followed a Nostromo design with a different colour theme choosing a yellow with tan colour. Although some areas are altered a consistency is continued in the air ducts, ladders and vents that link the areas following through from the Nostromo, these are the same same aboard the Sevastopol, Torrens and Anesidora.
Timeline
[
]
The game Alien: Isolation is set as a continuing story after the film Alien and before the film Aliens.
See also
[
]
References
[
]
Citations
[
]
Footnotes
[
]