Name
[
]
Sevastopol is a trading station that appears in the game Alien: Isolation. Gameplay occurs aboard the installation on multiple levels, aboard is the Nostromo flight recorder that Amanda and the crew have been sent to retrieve.
The station was designed to be a thriving community and home for hundreds of people, Sevastopol has now been withdrawn from active service. It's on complete lock-down, with its remaining inhabitants in fear for their lives. The station in closed to all vessels and outside communication.
Characteristics
[
]
Reference stats table.
Appearance
[
]
Apariciones en lo siguiente; ☃☃↵ Alien: aislamiento
Interactions
[
]
Continuity
[
]
Sevastopol shares a similiarity with the Refinery Installation from the film Alien as do other spacecraft like the Nostromo and Narcissus.
Areas
San Cristobal Medical facility
Spacefight Terminal
Sevastopol Scimed Tower
Seegson Communications
Lorenz Systech Spir e

Medical
Research Rooms
Analysis Labs
Decontamination Rooms
Med Labs
Engineering
Self-destruct
Control Rooms
Engine Rooms
Corridors
Escape Capsules

Concept
[
]
Concepts for the installation, spacecrafts and living areas were made by Bradley Wright.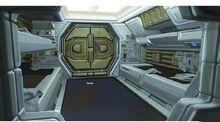 Production
[
]
In production lead artist Jude Bond with lead level design Iain Wright and lead environmental artists Mark Radcliffe and Paul Abbott brought these concepts to life.
Drawing influences from the film Alien these artist included as many ideas from the film as they could. Ideas included the dated terminals, input devices, equipment, doors and dark but electrical corridors. Lead lighting artist Ben Hutchings was responsible to recreate the darkness with lead UI artist Jon McKellan creating the terminal displays and access units.
In game
[
]
In game the shadows and darkness played a large part leaving Amanda with the need to find equipment like batteries for her flash light and flame thrower fuel, both pieces of equipment capable of lighting the way, with flares also available.
The Sevastopol drew on level design from the Nostromo and an outer design from the Refinery Installation from the film Alien. Implemented by Iain Wright, Mark Radcliffe and Paul Abbott. Multiple areas were themed from Nostromo designs with a different colours being chosen throughout the installation. Although a large installation there were new areas added that were not from the film Alien, in these areas like the San Cristobal Medical facility a white theme was used, keeping a consistency with Medical from aboard the Nostromo. The Spacefight Terminal used an exposed design similiar with concrete for the structure with the Sevastopol Scimed Tower, Seegson Communications and Lorenz Systech Spire areas used a dark Nostromo theme throughout. Although some areas are altered a consistency is continued in the air ducts, ladders and vents that link the areas following through from the Nostromo, these are the same same aboard the Torrens and Anesidora.
Timeline
[
]
The game Alien: Isolation is set as a continuing story after the film Alien and before the film Aliens.
See also
[
]
References
[
]
Citations
[
]
Footnotes
[
]